Luka Bolfan
Luka is a certified Lvl 1 CrossFit coach and fitness coach with ten years of experience as the professional waterpolo player. He is particularly focused on the powerlifting segment of CrossFit, as well as on all training processes in preparing individuals for all levels of the CrossFit competition. He can also give you valuable tips for achieving results with a diet plan tailor-made to your needs. Determination in achieving the desired goals, energy and enthusiasm, as well as the moderate dose of fun he is bringing into the training process, his sessions are demanding and fun.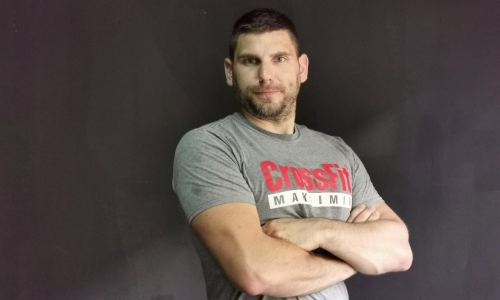 Andrej Pintarić
Andrej Pintarić is the kinesiologist and the only certified CrossFit Level 3 Coach (CF-L3) in Zagreb. With his ten years of experience in conducting group and private trainings, he has developed himself as a top-quality CrossFit coach both for advanced and for beginner level under the CrossFit Basic program in CrossFit Maksimir. His qualities are constant progress, ambition and fitness/condition preparation of athletes, as well as giving all of the useful knowledge to new members of CrossFit Maksimir.
MARKO GLADOVIĆ
Marko is the coach with years of experience in CrossFit  and functional fitness in general. In CrossFit, his area of focus is mostly weightlifting, for which he has an excellent educational background. In addition to functional fitness in all its forms, he is especially dedicated to training processes, fitness preparation of athletes and conditioning. A positive attitude, constant encouragement of athletes in achieving goals and finding interesting modifications and solutions in the training process will surely delight you.
Maja Lovrić
Maja Lovrić is a fitness coach with many years of experience in group training and private sessions.
She specializes in Girevoy ,a sport of Kettlebell, and has performed in the Croatian national Girevoy team. In CrossFit Class sessions she likes to combine strength and endurance, and the unavoidably hard warm-ups you will surely love.
Iva Kumrić
Iva is a graduate of kinesiology who has been professional athlete in handball and athletics for 12 years. She specializes in functional fitness and bodybuilding in general and as part of the CrossFit program she will transfer new knowledge in a fun way and motivate you with her positive energy to give your maximum in training. Order, work and discipline, along with fun and smile, are her motto as a coach in CrossFit Maksimir.
Željka Bolfan
Željka is a fitness coach with years of experience in CrossFit. You can always get very useful tips about nutrition in training, as well as get excellent instructions on training progress and mastering specific skills in CrossFit. Željka had previously played basketball for ten years and is very familiar with precision, persistence and dedication in training. Also, Željka is the "Fittest Family" show 2019 winner and will surely give you the best tips for successful team trainings.
TIBOR MAJORINC
Tibor is certified fitness trainer with interests in functional bodybuilding and high-intensity interval training. In CrossFit Maksimir Tibor is a head coach of specialty program for women called Glute & Core, which is designed to strengthen the muscles of the butt, legs and torso. Still not sure this program is for you? Give yourself to Tibor's hands and your body will be grateful, and for the additional effect of training there is always smiling and funny coach!