Luka Bolfan
Luka is a certified Lvl 1 CrossFit coach and fitness coach with ten years of experience as the professional waterpolo player. He is particularly focused on the powerlifting segment of CrossFit, as well as on all training processes in preparing individuals for all levels of the CrossFit competition. He can also give you valuable tips for achieving results with a diet plan tailor-made to your needs. Determination in achieving the desired goals, energy and enthusiasm, as well as the moderate dose of fun he is bringing into the training process, his sessions are demanding and fun.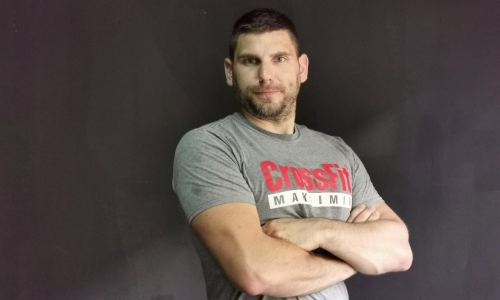 Andrej Pintarić
Andrej Pintarić is the kinesiologist and the only certified CrossFit Level 3 Coach (CF-L3) in Zagreb. With his ten years of experience in conducting group and private trainings, he has developed himself as a top-quality CrossFit coach both for advanced and for beginner level under the CrossFit Basic program in CrossFit Maksimir. His qualities are constant progress, ambition and fitness/condition preparation of athletes, as well as giving all of the useful knowledge to new members of CrossFit Maksimir.
MARKO GLADOVIĆ
Marko is the coach with years of experience in CrossFit  and functional fitness in general. In CrossFit, his area of focus is mostly weightlifting, for which he has an excellent educational background. In addition to functional fitness in all its forms, he is especially dedicated to training processes, fitness preparation of athletes and conditioning. A positive attitude, constant encouragement of athletes in achieving goals and finding interesting modifications and solutions in the training process will surely delight you.
Viktor Cerinski
Viktor has ten years of experience in professional hockey, which gave him wide knowledge in the field of sports in general. He is engaged in swimming where he achieved enviable results on shorter tracks and is an active licensed ski instructor. The strength training and fitness trainings are something he is very familiar with, and he is particularly focused on training for strengthening the leg muscles as the main support and carrier of our body. His motto is if you can get out of the door, you didn't work hard enough.
Maja Lovrić
Maja Lovrić is a fitness coach with many years of experience in group training and private sessions.
She specializes in Girevoy ,a sport of Kettlebell, and has performed in the Croatian national Girevoy team. In CrossFit Class sessions she likes to combine strength and endurance, and the unavoidably hard warm-ups you will surely love.
Josipa Grebenar
Josipa Grebenar is a kinesiologist and has been actively engaged in handball for 20 years and is a member of the Croatian National Team. As a junior handball coach, she continued working with children within CrossFit. Work and discipline, together with play and laughter, is a motto that runs within the CrossFit Juniors program in CrossFit Maksimir. Her mission is to raise a new generation of young and strong CrossFiters.
Marko Novosel
With years of experience in gymnastics and street workout, Marko is our coach for CrossFit Class Gymnastics program. He was also in taekwando and cycling, and you will never see him without his bike. Achieving strict exercise movements, maximum body strength and the aesthetics of the body is something Marko devotes most of his training sessions. With fun and laughter, Marko turns his hard training into a simple "play".
Željka Bolfan
Željka is a fitness coach with years of experience in CrossFit. You can always get very useful tips about nutrition in training, as well as get excellent instructions on training progress and mastering specific skills in CrossFit. Željka had previously played basketball for ten years and is very familiar with precision, persistence and dedication in training. Also, Željka is the "Fittest Family" show 2019 winner and will surely give you the best tips for successful team trainings.